Metroplex Tech provides structured a full spectrum of structured wiring and cabling services for comercial customers througout the the entire DFW Metroplex.
We offer complete commercial structured wiring solutions and structured wiring installations. Our services include structured wiring design, installations, upgrades, testing, documentation, maintenance, relocation, and much more.
Below lists a few structured wiring services we provide: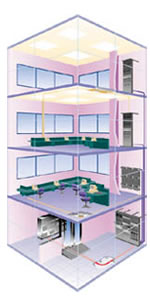 Wired Network Cable Installations
Wireless Network Installations
Copper Cable Installations
Telecommunications Structured Wiring
LAN/WAN Network structured wiring
Fiber Optic Cable Installations
Phone and Phone Jack Structured Wiring
Coaxial Cable Installations for Cable TV
Wire Installations for Phone Systems
Installations Business Security Systems
Installations for Alarm Systems
Data Center Structured Wiring Services

Data about structured wiring for offices:
Most new offices that are built will have structured wiring for data, phone, and occasionally, video and cable TV.

Older offices not upgraded to structured wiring will rely on wiring design that will not support current or future technology.
Structured wiring designs can be simple or complex and can be customized to meet individual needs and costs. Structured Wiring has many advantages over traditional wiring.
We are a dedicated structured wiring installation company you can trust with any major structured wiring project!

Contact us today to discuss your wiring project.

For a quote on our Structured Wiring program please request a quote or call us
Our PROMISE to our Structured Wiring Clients:
We always consider Cost vs. Benefit when providing service.
Our invoices are always clear and descriptive.
Our work functions as expected or we return at no charge.
We provide rapid same day service for emergency support.
We arrive on time, as scheduled, for a wiring project.
If we can't perform our work then you will not be charged.
Contact us at (817) 717-5539 to learn more...
If you have any questions about our various Structured Wiring options for your company please Contact Us or give us a call at: (214) 685-0886.

Please contact us for more information.

Call us at (214) 717-5539 or (817) 717-5539.
Email us your contact information and we will contact you.
Request support with your details and we will contact you.
Request a quote and we will send you a written estimate.
We also provide these additional wiring and cabling related services:
We provide such services as network cabling, data cabling, structured cabling, structured cabling system, voice data cabling, computer cabling, cabling services professional, computer network cabling, telecommunication cabling installation, phone cabling, ethernet cabling, category 5 cabling, voice cabling, cabling installers, cabling installation, cabling contractor, structured cabling solution, network cabling installation, cabling system, communication cabling, fiber optic cabling, cat 5 cabling, phone cabling installation and other cabling services.
We can also provide lan cabling, cat5e cabling, cabling removal, fiber cabling, cat 6 network cabling, cabling network infrastructure, cabling for voice data video, cabling telecommunication infrastructure, cat 6 cabling, cabling contractor, fibre optic cabling, data cabling, telecommunication cabling, cabling company, cat5 cabling, structured office cabling, cat6 cabling, structured wiring, structured cabling, computer wiring services, electric wiring, structured wiring, network wiring, lan wiring, ethernet wiring, home network wiring, phone jack wiring