Metroplex Tech provides network cabling services for the entire DFW Metroplex.
In today's IT and Telecommunications arena, many organizations require the integration of voice and data services over a single medium. To accomplish this, structured network cabling (Cat 5e/6) is designed to run both voice and data services.
We offer serveral types of network cabling services
Cat 5e/6 twisted-pair balanced copper cabling (structured cabling), either unshielded (UTP) or shielded (STP), is the low cost media used as standard for networking a building for all forms of electronic communications to the desktop (for PC, phone & fax systems).
Currently there are three main choices for network cabling
Category 5e (enhanced Category 5), Category 6 copper cabling, or fibre optic.
Category 5e is a specification designed for data networks that support high speed data transmission, like Gigabit Ethernet, but keeping the signalling frequency to 100MHz. Category 5e has replaced the 100MB Category 5 as the baseline network. If a data rate of 1GB to the desktop covers the user's foreseeable data needs, Category 5e is an adequate installation standard. If, however, the user anticipates higher data rates, we recommend that they should consider Category 6 or possibly fibre.
Category 6 is a specification for data cabling that supports 1GB data transmission at a frequency of 250MHz. This provides an excellent platform for Gigabit Ethernet with increased margins or "headroom" over Cat 5e, and also caters for future high speed data transmission protocols with even higher data rates.
The ultimate decision on whether to use Category 5e or Category 6 currently depends on the price sensitivity of the installations. Category 5e offers a cost-effective installation for Gigabit Ethernet, whereas Category 6 gives provides scalability but adds cost to the installation.
Metroplex Tech provides network planning and network cabling design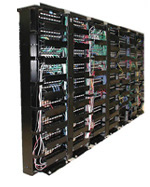 Cat 5, Cat 6, Gigabit Copper and Fiber Optic. We can do it all. From your company network backbone to the Internet - We can drop, pull and install the appropriate network cabling to get your data structure connected. Category 5 and 6 gigabit copper as well as fiber optic network cabling. We install to industry specifications and we use top-quality patch panels, mounting racks, jacks, surface mount modules and wall plates.
Network Expansion - Network Moves - Network Relocations

Our network engineers and installers have broad experience in corporate network moves and expansions. We can also handle any expansion to existing networks as well as complete office relocations.
Upgrades to from outdated to current Network technologies.
Older data network architectures still in existence such as Ethernet, ARCNET and Token Ring provide transmission speeds from approximately 2.5 to 16 Mbps. Current Network Cabling and network cabling technologies extend from 100 Mbps to the gigabit range.
Data Network Documentation of IT infrastructure
We can provide clear and detailed data network cabling and Network Cabling documentation on "what goes where". Our network technicians use the latest technologies to completely document the network cabling and network infrastructure. The entire wired network is mapped, diagramed and documented. You also receive a full report of the integrity of your network Network Cabling components and connectivity.
For a quote on our Network Cabling program please request a quote or call us at (817) 717-5539
Our PROMISE to our Network Cabling customers:
We always consider Cost vs. Benefit when providing service.
Our invoices are always clear and descriptive.
Our work functions as expected or we return at no charge.
We provide rapid same day service for emergency support.
We arrive on time, as scheduled, to start a Cabling project.
If we can't perform our work then you will not be charged.
If you have any questions about our various Network Cabling options for your company please Contact Us or give us a call at: (214) 685-0886.

Please contact us for more information.

Call us at (214) 717-5539 or (817) 717-5539.
Email us your contact information and we will contact you.
Request support with your details and we will contact you.
Request a quote and we will send you a written estimate.
We travel all over the greater DFW Metroplex fixing and maintaining computers 24/7 so you can be assured we will be there for you when you or your computers need us most.
We also provide these additional wiring and cabling related services:
We provide such services as network cabling, data cabling, structured cabling, structured cabling system, voice data cabling, computer cabling, cabling services professional, computer network cabling, telecommunication cabling installation, phone cabling, ethernet cabling, category 5 cabling, voice cabling, cabling installers, cabling installation, cabling contractor, structured cabling solution, network cabling installation, cabling system, communication cabling, fiber optic cabling, cat 5 cabling, phone cabling installation and other cabling services.
We can also provide lan cabling, cat5e cabling, cabling removal, fiber cabling, cat 6 network cabling, cabling network infrastructure, cabling for voice data video, cabling telecommunication infrastructure, cat 6 cabling, cabling contractor, fibre optic cabling, data cabling, telecommunication cabling, cabling company, cat5 cabling, structured office cabling, cat6 cabling, structured wiring, structured cabling, computer wiring services, electric wiring, structured wiring, network wiring, lan wiring, ethernet wiring, home network wiring, phone jack wiring