Metroplex Tech provides data, phone and network structured wiring and cabling services for the entire DFW Metroplex. We offer complete commercial solutions for copper and fiber wire and cable installations. Our services include network design, installations, diagnostics, upgrades, testing, documentation, maintenance, relocation, and much more.
Whether you are adding a single workstation, networking a few stand-alone PC's or implementing a office wide network... we'll get you connected.
Wherever data, video or voice communications are needed, a cabling infrastructure is required to support it. A Structured Cabling System (SCS) solution provides all the communications wiring and cabling for an entire home, office or building in a unified, centralized and structured manner, allowing the flexibility for every user to connect to services such as, data (computer), voice (telephone/intercom), cable or satellite TV or even video (CCTV).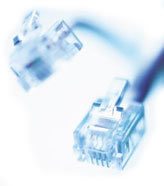 We offer comprehensive solutions for new data, video and voice structured wiring and cabling requirements. We use the highest quality cables and hardware, and the latest networking technologies.
Our structured cabling systems installation methods are designed to be organized and efficient. We design and build our cabling infrastructures and data networks so they will be scalable and will make office environments expandable, easy to manage, and well organized.
Our crew of experienced infrastructure wiring technicians installs all types of data, voice and video cabling. Whether it's in new construction or an existing office environment, Metroplex Tech can provide for all your infrastructure wiring and cabling needs.
Definition and Overview of Structured Cabling
Structured cabling is the cabling and connectivity products that integrates the voice, data, video, and various management systems of an office or an entire building.
Structured cabling consists of standardized set of media and layouts, cables, standard connection interfaces, and total system design and installation. The structured cabling system supports voice, data, video, and management features.
Structured cabling is usually installed into new offices or buildings as a standard or add-on feature. It support intercom systems, security systems, video and audio for home theater systems, computer networking, digital cable or satellite TV, and of course telephone system.
A home with structured cabling usually has a wall control box located in a central closet that interconnects all components and all rooms throughout an office. The structured cabling functions are then assessable by wall outlets with the appropriate connectors based on the design of the structured cabling system. Structured cabling in most cases used for computerized networking technologies and solutions.
For a quote on our Wiring program please request a quote or call us
Our PROMISE to our Wiring an Cabling customers:
We always consider Cost vs. Benefit when providing service.
Our invoices are always clear and descriptive.
Our work functions as expected or we return at no charge.
We provide rapid same day service for emergency support.
We arrive on time, as scheduled, to start a wiring project.
If we can't perform our work then you will not be charged.
Contact us at (817) 717-5539 to learn more...
If you have any questions about our various Wiring options for your company please Contact Us or give us a call at: (214) 685-0886.

Please contact us for more information.

Call us at (214) 717-5539 or (817) 717-5539.
Email us your contact information and we will contact you.
Request support with your details and we will contact you.
Request a quote and we will send you a written estimate.

We travel all over the greater DFW Metroplex fixing and maintaining computers 24/7 so you can be assured we will be there for you when you or your computers need us most.
We also provide these additional wiring and cabling related services:
We provide such services as network cabling, data cabling, structured cabling, structured cabling system, voice data cabling, computer cabling, cabling services professional, computer network cabling, telecommunication cabling installation, phone cabling, ethernet cabling, category 5 cabling, voice cabling, cabling installers, cabling installation, cabling contractor, structured cabling solution, network cabling installation, cabling system, communication cabling, fiber optic cabling, cat 5 cabling, phone cabling installation and other cabling services.
We can also provide lan cabling, cat5e cabling, cabling removal, fiber cabling, cat 6 network cabling, cabling network infrastructure, cabling for voice data video, cabling telecommunication infrastructure, cat 6 cabling, cabling contractor, fibre optic cabling, data cabling, telecommunication cabling, cabling company, cat5 cabling, structured office cabling, cat6 cabling, structured wiring, structured cabling, computer wiring services, electric wiring, structured wiring, network wiring, lan wiring, ethernet wiring, home network wiring, phone jack wiring