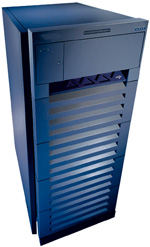 Do you know when one of your servers has a hardware or software failure? Are you alerted to these critical issues and any issues that may escalate to a complete system failure or data loss? 24 hours a day?
If you answered "No" to any of the above questions, then we can provide a complete Server Monitoring solution for your business to as a way to prevent or be alerted to any future problems that can affect your business operation.
Our solution has been built around industry standard technologies and customized to bring the most important features that customers demand. Backed by our 24 hour support team, there is no need for you to be worry in the middle of the night about potential issues that could arise since we will be actively watching and monitoring all system activity.
We will attempt to resolve any issues that are discovered and inform you by e-mail or phone when an issue is found and when it has been resolved.
Service Overview

Carried out on a regular basis and fully managed by Metroplex Tech technical team we are able to:
Monitor your business critical servers
Monitor your network activity
Monitor your Internet connection and activity
Identify critical hardware and software issues as they occur
Identify potential issues early on by utilizing alerts.
Remediate issues during or out of business hours
Keep you informed with status reports
Spot Potential Issues Before They Occur
Using our remote monitoring solution, we are able to identify problems before the server, network or business systems are compromised. This ensures your business operation remain functional and your employees remain productive.
Immediate Resource
Having Metroplex Tech available 24x7x365 to find and eliminate potential problems before they happen and also deal with technical issues as they arise means that you do not have to worry while we are on watch. As soon as our team is notified of a possible occurance of an issue or an alert, we assess the situation, create a plan of action, liaise with you, if required, and quickly determine the best way to promptly resolve the issue.
Please contact us for more information.



Call us at (214) 717-5539 or (817) 717-5539.


Email us your contact information and we will contact you.


Request support with your details and we will contact you.


Request a quote and we will send you a written estimate.