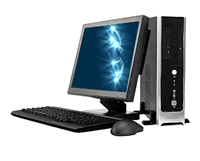 Computers & networks in today's age of technology are needed for most businesses successful day-to-day operation.
For your business to succeed, you need to keep your technical environment running smoothly. Any problems must be dealt with quickly and with minimum disruption to avoid costly downtime.
Real in-depth technical expertise is needed to do this.
That's where we come in.
Our IT Team offers computer network support services tailored to the needs of the small or medium sized business in the Dallas Fort Worth Metroplex.

Here is a list of what is included in the computer network support package:
Unlimited phone support
Unlimited remote support
Unlimited on-site visits
Unlimited hardware break/fix support
Remote monitoring of servers
Our IT systems are proven to cut response times and allow a high standard of service commitment. We strive to provide 100% customer satisfaction.
Our Comprehensive IT Support Package is an all-in-one total management solution. Many clients however require us to customize this package to suit their individual business needs - which can be done to suit specific business technology needs and requirements.
More details are included at our Computer Support page:
We do it all - so you don't need to be bothered by day-to-day computer and network maintenance that keeps your IT environment running.
Contact us today to enquire about a IT Support Package customized for your business.
Use the links below to speak with us today.

Email us your contact information and we will respond back with 24 hours.
Call us at (817) 717-5539 to arrange for a tech to visit your home/office.
Submit a support ticket with your details and a description of the problem.
Request a quote and we will send you a written quote or estimate.
We travel all over the greater DFW Metroplex repairing, supporting and maintaining computers, so you can be assured we will be there for you when you need us most.