What we can do
Repair crashed computers
Repair malfunctioning printers
Repair internet connectivity
Connect wireless networks
Clean virus infection
Remove spyware
Secure networks
Back up important data
Perform system checkups
Improve PC performance
Install patches and updates


Network Security Review
We can help businesses to secure their networks, systems, applications, data and other resources by undertaking a Security Position Assessment (SPA). This assessment will identify the current level of security readiness in your company, and evaluate the effectiveness of existing security measures, policies and response mechanisms.


Complete IT Solutions
We provide solutions for small businesses without an IT department.
We're also the solution for companies with an IT department that wants to
reduce IT costs, increase IT sophistication or just assist in completing a project. We become your IT
department by providing outsourced computer and network support
services that keep your mission critical systems up and running. Our support is both proactive and
reactive and is delivered on-site as well as remotely. Our goal is to keep our clients' computers and networks operational at all times.


Data Backup solutions
Backup solutions protect your business operation from the potentially crippling loss of data due to network or system failure. When disaster strikes, whether it takes the form of a system malfunction, virus, a fire or simple human error, you can recover your critical data files.

Remote Computer Support
About our Remote Support Plans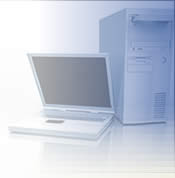 Our Remote Support Plans are perfect for the support of a 1-10 business or home office computers with high-speed internet access.
When you join this plan and install our remote software, you'll be able to count on us for fast remote assistance where we can bring a qualified technician right to your computer, over the Internet and have them assist you remotely.
Our remote service plans also include discounts on our flat-fee rates and are great for such support issues as:
Spyware/Adware Removal
Hardware Issues
Printer Malfunctions
Virus Removal
Software problems
Computer configuration
Security Updates
Performance Tuneups
Data Backup Assistance
Windows Error & Event Monitoring
Email setup & configuration
Lost documents or data
Our remote service uses our own local tech experts who you know and trust. For added security, we only connect as needed when you initiate a secure remote control session. This plan is billed monthly and you can cancel at any time.

Remote Support Plan 1 - $24.99 each computer
Our Remote Support Plan 1 is for designed for the support of 1-4 computers with high-speed internet access. Includes:
30 minutes of phone support included (8am-8pm, M-F)
1 hour remote support included (8am-8pm, M-F)
1 hour guaranteed priority response time
On-site hourly rate discounted to $55.00/hour
Flat fee service rates discounted

Remote Support Plan 5 - $19.99 each computer
Our Remote Support Plan 5 is for designed for the support of 5-9 computers with high-speed internet access. Includes:
30 minutes of phone support included (8am-8pm, M-F)
1 hour remote support included (8am-8pm, M-F)
1 hour guaranteed priority response time
On-site hourly rate discounted to $55.00/hour
Flat fee service rates discounted

Remote Support Plan 5 - $14.99 each computer
Our Remote Support Plan 5 is for designed for the support of 10-15 computers with high-speed internet access. Includes:
30 minutes of phone support included (8am-8pm, M-F)
1 hour remote support included (8am-8pm, M-F)
1 hour guaranteed priority response time
On-site hourly rate discounted to $55.00/hour
Flat fee service rates discounted