Metroplex Tech is committed to a quality computer service and support, therefore we offer full health check-ups, performance tune-ups, system updates and routine maintenance on every brand of PC system.

We can check your PC to make sure it's secure, virus free and in tip top condition for long-term use, regardless of whether or not it was purchased from us.
We can also make upgrade recommendations to boost the PC's performance, preventing you from having to spend money on a new PC or laptop.

Call us at (817) 717-5539 to schedule a PC health check.
We can determine the health status of your computer system and take the necessary steps to improve it, if needed. Here is list of some of the standard computer and laptop services we offer to all of our valued customers:
Replace missing or corrupt hardware driver files
Check, repair and/or improve system boot configurations
Reinstall or repair Microsoft® Windows operating systems
Troubleshoot and eliminate computer o program errors
Install antivirus software and update antivirus definitions
Scan for viruses, worms, trojans, adware and spyware
Remove malicious active or dormant viruses from your PC
Update and reconfigure PC motherboard system BIOS
Download and install updated hardware and device drivers
Remove old internet cached files and tracking cookies
Remove unused or unneeded programs to free up resources
Clean old unneeded entries from Windows registry
Delete unneeded startup programs to speed up PC system
Clean up old temporary files that are not needed
Run disk cleanup to check and free up disk space
Diagnose and repair Internet access or web browser problems
Optimize memory swap file for best performance
Scan hard disk for file allocation and boot record issues
Perform complete hardware diagnostics on PC system
Check for IRQ, and communication conflicts
Check for sufficient ram and hard drive space
Check event logs for problems and flush unneeded logs
Tweak OS settings to Improve system responsiveness
Resolve hardware, printer, keyword and mouse problems
Hard disk optimization and defragmentation
Fine-tuning your system using the latest software
Is is important to maintain and optimize your computer or laptop on a regular basis to help prevent system crashes and to boost your computers performance. Computer systems can become slow and unresponsive due to the constant program installation, internet browsing and general day to day use.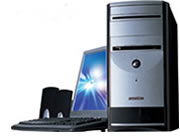 Your computer Windows operating system needs regular attention to run smoothly. You may have noticed already that your computer isn't as fast as it was when first purchased. We can perform complete health checks, tune ups and general routine maintenance to improve your computer system.
Computer Health Checks are best if performed right after you get a new computer, and scheduled monthly, especially as part of a Preventive Maintenance Plan. Once an initial checkup is performed, routine check-ups each month can usually take between ten to twenty minutes, and in some cases can even be performed remotely.
How a Health Check is done
We check a series of key areas on your computer and make sure that everything works the way it should. Once we are finished we will provide you with a basic report of everything that we discovered, what was fixed, and we'll offer suggestions on what you can do to improve performance or prevent problems in the future.
A Computer Health Check is meant to be performed on a regular basis - usually once a month for each computer.

Standard Computer Health Check Rates
First Computer Health Checkup $75
Monthly Routine Checkup $50 each, after first checkup
Price is per computer, per visit at one location onsite on a prescheduled basis. 4 or more computers receive a 20% discount. Contact us for discount pricing for networks containing more than 10 computers.
Price is per computer, per visit at one location. Contact us for network backup solution pricing.
Computer Maintenance Plan Rates
We offer 6-month and 12-month Computer Maintenance Plans. These plans are intended primarily for business users with a network of 4 or more computers, and covers a first checkup, monthly checkups and system backups (if applicable). Call us for more details.

Call us at (817) 717-5539 to learn more about our IT services.